Download the pdf                                                                                                   Subscribe to The Traveler
October 2018
The latest ComLINE was just released!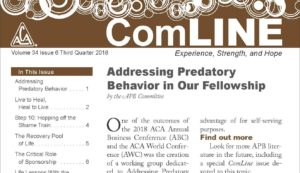 Current and back issues can be downloaded from ACA ComLINE Web Page
WSO News
ABC Ballot Proposals
REMINDER TO ALL GROUPS: Proposals for the 2019 Annual Business Conference (ABC) are due by November 30th. For more information, go to https://acawso.org/category/ballot-prep/
Outreach
If your group, Intergroup, or regional service committee has an outreach service position/person please email that person's name, email address, country and time zone to [email protected].  Also, if any members are planning to travel to parts of Africa, and are willing to hand carry books, please send an email to the MPS chair address.
Service Positions on ACA Nominating Committee
The ACA Nominating Committee offers a unique new opportunity for ACA service. Become part of the team that is defining, implementing and sustaining a new process for selecting WSO trusted servants. See the Nominating Committee Page for more information and how to apply. If you're not ready yet, this information will give you the path to follow for future service in this committee.
WSO Meeting Teleconferences
On the second Saturday, of each month, the ACA WSO holds its monthly teleconference meeting.  The meeting begins at 2pm Eastern Time; the telephone number is 712-432-0075, access code 427266#.  Minutes of past meetings can be found here.
7th Tradition
Your World Service Organization relies on the support of ACA groups for meeting the Fellowship's service needs as much as meetings rely on the basket to pay their expenses. We are currently not fully self supporting in this area and ask groups and Intergroups, that are able, to make a contribution. The amount is not as important as is the spiritual act of the 7th Tradition in helping support your World Service Office. 7th Tradition Contributions can be made online or by mailing a check or money order payable to ACA WSO to 1458 E33rd St., Signal Hill, CA, 90755.
Resource Spotlight – Adultchildren.org Homepage Content and Design Contest
We are asking for fellowship input on the design and message on the home page of our website Adultchildren.org. If we use one of your ideas, you will get a piece of ACA literature of your choice!
What should be on the home page – the Laundry List? Our Public Service Announcements? Should we use buttons, Images, or plain text? What colors will work best to carry the message.
Send your ideas and sample layouts to [email protected]
Featured Meetings & Events
ACA Recovery Weekend 
In English and Dutch languages
Saturday, October 5-7, 2018 – Voeren, Belgium
Event Flyer
Intergroup Speaker Meeting – Brentwood, CA
Saturday, October 13, 2018 Event Flyer
Retreat – Actions Coming from Love
October 12-14, 2018 –  Daylesford Abbey, Paoli, PA
Event Flyer
7th Annual Conference – Develop Your Recovery Compass
Saturday, October 20, 2018 –  Deerfield, IL
Event Flyer
See all the event flyers by clicking here
Meetings – ACA WSO maintains a World Meeting List of registered ACA meetings that take place in person, over the phone or online, which is updated monthly. Visit the Find a Meeting page on adultchildren.org to search for a meeting, or for more detail on specific meeting types, visit the Meeting, Phone, Skype and Internet meeting information pages.
Traveler Submissions
The Traveler Newsletter is an email publication, scheduled to be released at the beginning of each month, which highlights ACA service news and events.  If your service committee, intergroup, region, or group would like to submit a notice to The Traveler, please send an email to [email protected].  For more details, please visit The Traveler
About Adult Children of Alcoholics (ACA)
ACA is a worldwide 12 Step / 12 Tradition program of recovery dedicated to people who were raised in dysfunctional families. ACA does not seek to assign blame to parents or caretakers, but we seek to understand the reality of how family dysfunctions affected us as children and still affects our adult behavior today.
Family dysfunction can include alcoholism, abandonment, neglect, or any type of addiction or abuse. ACA is synonymous with ACoA; Adult Children Anonymous; & Adult Children of Alcoholics and Dysfunctional Families.
For more information visit: www.adultchildren.org